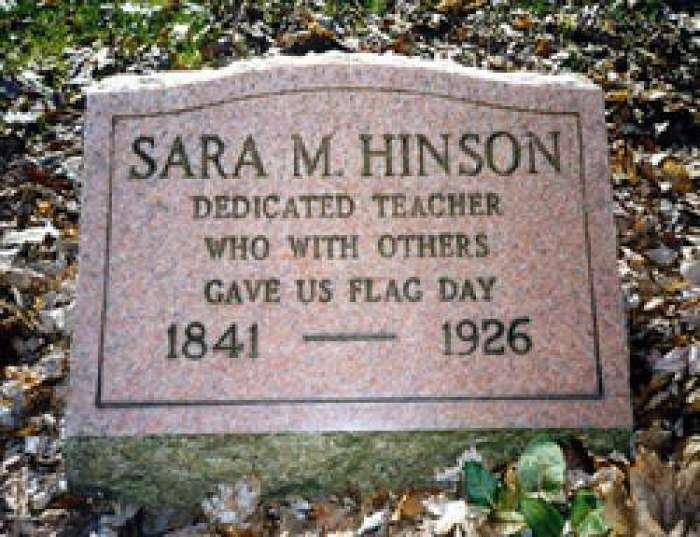 Honoring the "Founder" of Flag Day – Sara Hinson
Honoring the "Founder" of Flag Day – Sara Hinson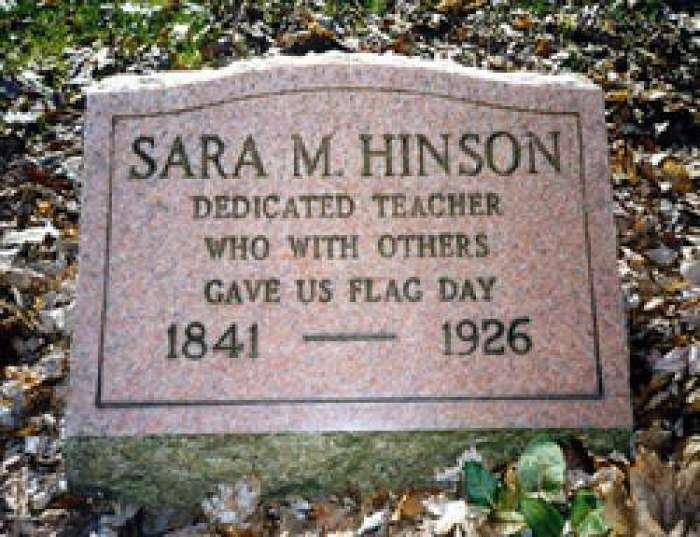 If this was a "normal" year, today you'd find more than 600 third and fourth grade students from three Buffalo public schools parading through the gates of Forest Lawn wearing red, white and blue t-shirts and waving American flags to honor the legacy of the woman from Buffalo who is credited with starting the tradition which led to the annual commemoration of Flag Day, which is celebrated on June 14. (There's always a Buffalo connection!)
Unfortunately, the Flag Day event which has become a wonderful annual tradition at Forest Lawn, won't be happening this year – another impact of the Coronavirus pandemic. But, we still want to recognize and honor Sara Hinson, the Buffalo public school teacher whose efforts were a catalyst for the national designation of Flag Day.
Flag Day commemorates the adoption of the flag of the United States, which happened 243 years ago on June 14, 1777, by resolution of the Second Continental Congress. In 1916, President Woodrow Wilson issued a proclamation that officially established June 14 as Flag Day.
And Flag Day had its roots right here in Buffalo, thanks to Sara Hinson.
Sara was born in Buffalo on February 25, 1841, the daughter of Squire and Mrs. George Hinson. She was educated in the Buffalo School System, and at a private finishing school. Miss Hinson began a 30-year teaching career in 1864 at school 31 on Emslie Street (Now the Harriot Ross Tubman School) until she was appointed principal of the school – a job she held for another 20 years. While she was a teacher, she thought children should know about the American flag and know what it stands for, so she taught them how to pay respect to the flag by reciting the pledge of allegiance.
On June 14th, 1891, she began the tradition of a formal ceremony of saluting and honoring the flag on the anniversary of the day that the Continental Congress accepted the design of the American flag. Other teachers and schools joined in the tradition in the years that followed, and it began to catch on across the country, until it was "officially" recognized as a national celebration by President Wilson.
In 1910, Miss Hinson resigned as principal of School 31 and was the first woman appointed to the Board of School Examiners, the forerunner to the present Buffalo School Board. Mayor Louis Fuhrmann made this appointment. Miss Hinson served on the Board from 1910-1916. She continued to work as a member of the Teacher's Association and as chairman of its Fellowship committee. In this capacity, Miss Hinson would visit teachers, in their homes, when there was sickness or death. Remember that in those days, teachers were not allowed to be married, so some did not have family members who could care for them when they took ill.
Sara Hinson lived at 322 Lafayette Avenue in Buffalo, until her death on March 20, 1926 at age of 85. She is buried in Forest Lawn Cemetery and her grave is marked by a flag pole flying the American flag. On her gravestone are the words – "Sarah Hinson – dedicated teacher who with others gave us Flag Day."
In commemoration of Flag Day and in honor of Sara Hinson, Forest Lawn has hosted an annual flag retirement ceremony every year since 2008. And we're usually joined by more than 600 third and fourth grade students from three Buffalo Public Schools, School #'s 17, 54 and 31 (where Sara Hinson taught and served as principal!). The students wear patriotic red, white and blue t-shirts designed for this event, and parade from their respective schools down Main Street to Forest Lawn with a police escort.
During the Flag Day ceremony, the students usually sing patriotic songs and place a wreath on the gravesite of Buffalo school teacher and Flag Day co-founder Sara Hinson. In addition, winning submissions from a student essay contest are also read. The students would then assist in the flag retirement ceremony, in which hundreds of unusable U.S. flags, which are typically accepted from the general public by Forest Lawn over the last year, are properly retired – burned with the help of firefighters from the Buffalo Fire Department.
Again, it's very unfortunate that this wonderful tradition can't happen this year, but we intend to resume it and welcome the school children back in 2021!