Forest Lawn Heritage Foundation. A steward of one of WNY's most precious assets.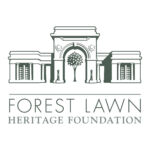 The Forest Lawn Heritage Foundation, Inc., is a 501(c)3 organization established in 1992 to assure the preservation and restoration of Forest Lawn's historically significant buildings, landmarks, landscape, and archives, as well as the stories they tell for Western New York, the nation and the world.
The Foundation also helps educate teachers, students and the public about the vast cultural, historical, and natural resources you'll find at Forest Lawn.  We offer tours, workshops, lectures, theatrical performances and exhibitions that highlight Forest Lawn's rich history, and remarkable natural & man-made beauty.
The Foundation's plan for Forest Lawn's future capitalizes upon its sedate grandeur, its living history, and its singular place in the life of Western New York. While we remain steadfast in fulfilling our core mission to provide the finest perpetual care for all who rest in peace inside our gates, we envision Forest Lawn among Western New York's greatest public spaces, where people from all walks of life are welcome to stroll, jog, read a book beneath a tree, study their family's past, marvel at a work of art, join a tour, listen to music, hear a lecture or be married in the chapel.
We are gratefully accepting tax-deductible donations.
Forest Lawn Heritage Foundation Directors
Charles F. Kreiner, Jr., Chair
John Edens
William Pearce, Jr.
Kurt L. Rich
James M. Wadsworth
JoEtte Mosey Zaccagnino
Hugh M. Russ
Officers
Christopher Converse, Interim President
Craig Wolcott, Vice President
Jamie Lotz, Vice President, Treasurer
Jennifer Kovach, Corporate Secretary
Scajaquada Creek Restoration & Community Access Project
Scajaquada Creek, which daylights in Forest Lawn and meanders through it, is part of the Niagara River watershed, making it one of the region's most important waterways. But it is also one of its most threatened waterways, as decades of land-use development, urban pollution, combined sewer overflows and other human disturbances have taken a significant toll on the creek, reducing water quality and damaging the health of the ecosystem.
The good news is that through a unique partnership with a diverse group of private benefactors, cultural, civic and governmental institutions a major project to clean up the portion of Scajaquada Creek that runs through Forest Lawn was recently completed. It required an investment of $7 million and took nearly 10 years to complete.
Landscape Renewal Plan
The 2006 "October surprise" storm resulted in the loss of 700 of Forest Lawn's trees in a single night, as well as successive losses over the years from weather events, the spread of Dutch Elm disease in the 1970's and other diseases have altered the character of the landscape and requires renewal.
With the support of a generous grant from The John R. Oishei Foundation, Forest Lawn has taken on an ambitious research project and delivered The Forest Lawn Landscape Renewal Plan.
Its primary objective is to restore the cemetery's unique historic landscape. The plan sets a clear course for the restoration of trees and the enhancement of overall landscape character. The phased replanting of the tree collection and woodland canopy will return the forest to Forest Lawn. This is anticipated to be a 12-year project that will cost nearly $6 million to complete.