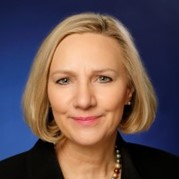 Julie R. Snyder named CEO of Forest Lawn Group
Julie R. Snyder named CEO of Forest Lawn Group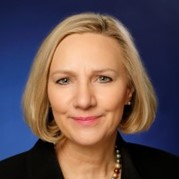 (Buffalo, New York) – The Buffalo City Cemetery Inc.'s Board of Trustees Tuesday unanimously appointed Julie R. Snyder, a former health-care executive and hospital foundation leader as Forest Lawn Cemetery's new CEO.
The role, effective Sept. 11, 2023, will have executive responsibility for the historic and culturally significant 269-acre Forest Lawn Cemetery, and its nearby crematory; oversight of Forest Lawn Group's ten additional cemeteries across Western New York; and leadership for the Forest Lawn Heritage Foundation.
Snyder's selection came after a rigorous four-month process led by Marsha Koelmel of Buffalo's Catapult Executive Consulting and a seven-person search committee. The opening attracted more than 100 applicants, which were reduced to 15. Five people were interviewed, and two finalists selected for additional executive assessment and interviews. The board defined the CEO's job as primarily "outward-facing," concentrating on community and business relationships, brand recognition, and fundraising in addition to executive management of the group's cemeteries and its foundation. Previous experience in a highly regulated industry was another key competency noted in the search process.
A goal will be to maintain positive relations with New York State's Department of State's Cemetery Board, as well as foster strong relationships with the Western New York state delegation and other key community stakeholders.
Snyder joins a well-tenured and deeply knowledgeable staff of 40 individuals with dedicated expertise in cemetery operations, historic conservation and preservation, stewardship of financial assets, and regulatory compliance with the Cemetery Board.
"We are pleased to have completed our search with a local leader who possesses business and community-relations expertise," said board Chair James M. Wadsworth. "As we approach our 175th anniversary, the Forest Lawn board is ready to begin our institution's next chapter with an ideal leader."
The search committee, in addition to Wadsworth, included trustees Charles F. Kreiner Jr. as chair; Stephen W. Bell, vice-chair; Ruth D. Bryant; George C. Morris; Jane Hopkins, and Forest Lawn Counsel Joseph L. Braccio.
They determined that Snyder brings extensive experience leading teams, managing and raising funds, creating successful marketing and communication campaigns, and has a strong record of accomplishment as a passionate and long-standing community volunteer who understands non-profits.
"I view this role as a vocation, having worked in health care for more than two decades and frequently been close to families at times of great loss," said Snyder. "This role is one of both leader to a dedicated team, but also liaison with the funeral professionals who serve our community, our important regulators in Albany, and my fellow Buffalo residents who value, as do I, Forest Lawn as a historic parkland."
"We also want to highlight that Forest Lawn is a non-profit with a closely held charitable Foundation, worthy of philanthropic support and an essential part of Buffalo's cultural ecosystem," she added. "Most important is the responsibility to continue to uphold our long-standing mission to serve and honor our network of nearly 260,000 permanent residents who rest within the gates of Forest Lawn and its sister cemeteries."
Snyder most recently served as vice president, community relations for Highmark, the successor organization of the non-profit HealthNow New York. She served as senior vice president and chief marketing and communications officer at HealthNow, known as BlueCross BlueShield of Western New York and BlueShield of Northeastern New York for 11 years. While also serving as chief of staff to HealthNow's CEO, she led a diverse and engaged team of 60 employees with award-winning and highly visible community partnerships, successful marketing campaigns and oversaw internal and external communications for the $3 billion health plan.
Prior to HealthNow, Snyder was executive director of Sisters Hospital Foundation, part of Catholic Health. She oversaw fund development and disbursement of grants, reporting to a board of 30 business and community leaders.
She received her B.A. in public communication from American University in Washington, DC. Snyder's community service includes as a former trustee of Buffalo Olmsted Parks Conservancy (2012-2021); and the Buffalo Therapeutic Riding Center (2013-2022). She is a current executive committee member of 716 Squash and is a sustaining member of the Junior League of Buffalo. Snyder is presently chairing the search committee seeking a new executive director of the Buffalo Olmsted Parks Conservancy.