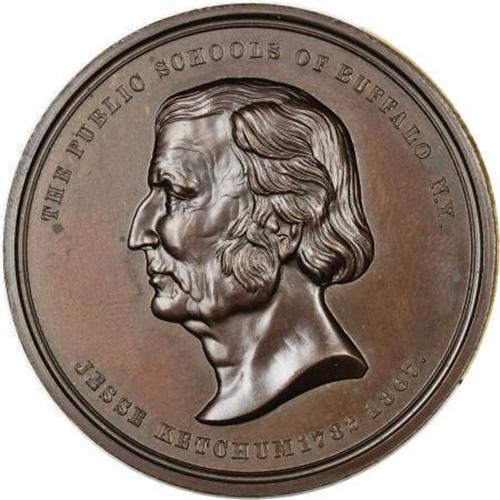 The Story of Jesse Ketchum: Philanthropist Dedicated to Education in the U.S. and Canada
The Story of Jesse Ketchum: Philanthropist Dedicated to Education in the U.S. and Canada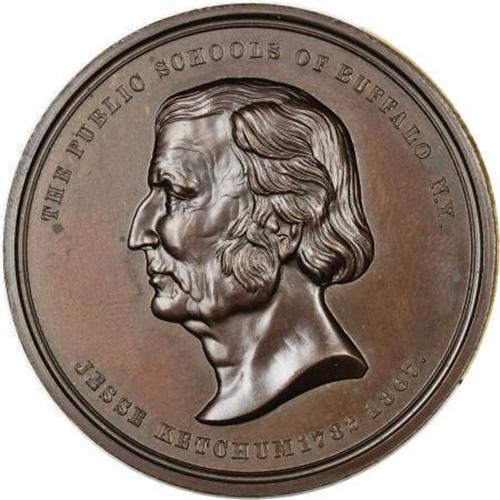 As students across WNY return to their classrooms this week to begin another school year, we look at the fascinating story of Jesse Ketchum, a man who was passionate about education and demonstrated his commitment in very tangible ways. He was a highly successful entrepreneur and philanthropist in the 1800's, who left an indelible mark on the cities of Buffalo, NY and Toronto, Ontario.
Jesse Ketchum was born in Spencerport, New York (Columbia County) on March 1, 1782. He was the fifth son of Jesse Ketchum and Mollie Robbins.  His mother passed away when he was only six, and Jesse and his 10 siblings were distributed among various family and neighbors. Jesse was taken into the home of a tanner in Spencertown where he learned the tanning trade.
Unhappy in his foster home because his efforts to attend school were frustrated, Jesse ran away at the age of 17 to join his brother, Seneca, who had come to Canada in 1796 and was farming on Yonge St north of York in Toronto. When Jesse arrived in York, Seneca put his brother in charge of his extensive farm. Both Jesse and Seneca fell in love with Ann Love, a young widow who worked as their housekeeper.  They drew lots to decide who would marry her, and Jesse and Ann were married.  They would have six children.
At the beginning of the War of 1812, Jesse purchased a tannery from a recent immigrant from the United States who had decided to return there after war was declared. Jesse joined the local militia, but his loyalty was called into question after York was temporarily held by the Americans, as Jesse was captured during the Battle of Fort York on April 27, 1813, and later paroled. During the War, his tannery business flourished as he made shoes for Canadian and English soldiers.
After the war, he helped fund the rebuilding of the bridges over the Don River in Canada and also contributed to the building of the first common school at York.  Jesse was known for his great and practical interest in schools, a quality that won him the affectionate title, "Father Ketchum." He taught Sunday school at the Methodist church, which he helped to establish in the area. In 1828, he was elected to represent York in the 10th Parliament of Upper Canada; he was reelected in 1830 but did not run again in 1834.
Jesse's first wife, Ann died in 1829.  He would then marry Mary Ann Rubergall and had three more children.
Recognizing what an important shipping hub the city of Buffalo was becoming due to the Erie Canal, Jessie and Mary Ann moved here in 1845.  He purchased land on Main Street between Allen and High Streets to build a tannery.
Once he had made his fortune, he decided he was more interested in giving it away for the good of the community, rather than accumulate more wealth. During the cholera epidemic of 1849, he gave away significant amounts of money to those in need.  During the Civil War, well into his 80s, Jesse funded the care of the families of enlisted men.  He would also "rent" homes and farms to deserving tenants, taking the rent they were paying and apply it towards the eventual purchase price, allowing people to own land that they might not otherwise have been able to afford.
He was very interested in the Public Schools. He would visit the schools and urge the children to be thrifty and abstain from tobacco and liquor.  He'd teach them about how to be proud Americans (particularly during the Civil War) and would reward students who did well with prizes.  He would visit every room in every school each year to deliver books to every student and teacher.  It is said he did this to make up for his longing to read books as a child.
Jesse Ketchum died on September 7th, 1867.  He was on his way to visit one of the schools when he felt a chill and returned home, where he died the next day.  His funeral was held at Westminster Church, and was one of the largest and most impressive ever seen in Buffalo at that time. The city's schools were closed as a tribute to their benefactor.  He is buried in section one in Forest Lawn Cemetery.
Jesse's son-in-law, Barnabas Brennan, inherited the estate. Mr. Brennan made a gift of $10,000 to Buffalo Public Schools for the awarding of medals for academic excellence, in honor of Jesse Ketchum.  The first medals were awarded in 1873 and are still awarded today. Originally, medals were awarded to high school seniors and to grammar school students in the last two grades of grammar school.  Since 1950, the medals are only awarded to 8th grade students. Approximately 15,000 medals have been awarded since 1873. The Jesse Ketchum medal is the longest running medal for academic excellence in the country.