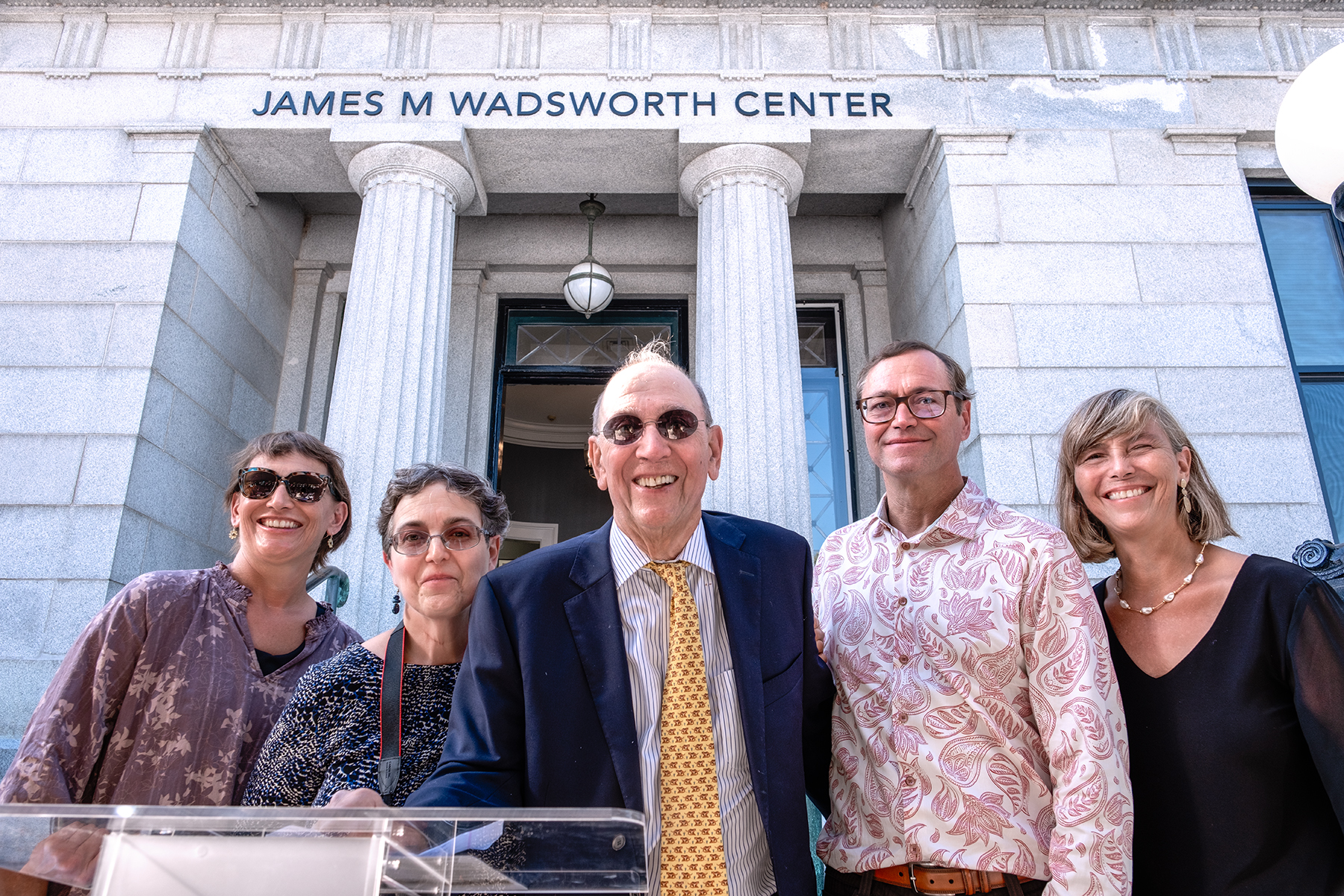 James M. Wadsworth Center Dedicated at Forest Lawn
James M. Wadsworth Center Dedicated at Forest Lawn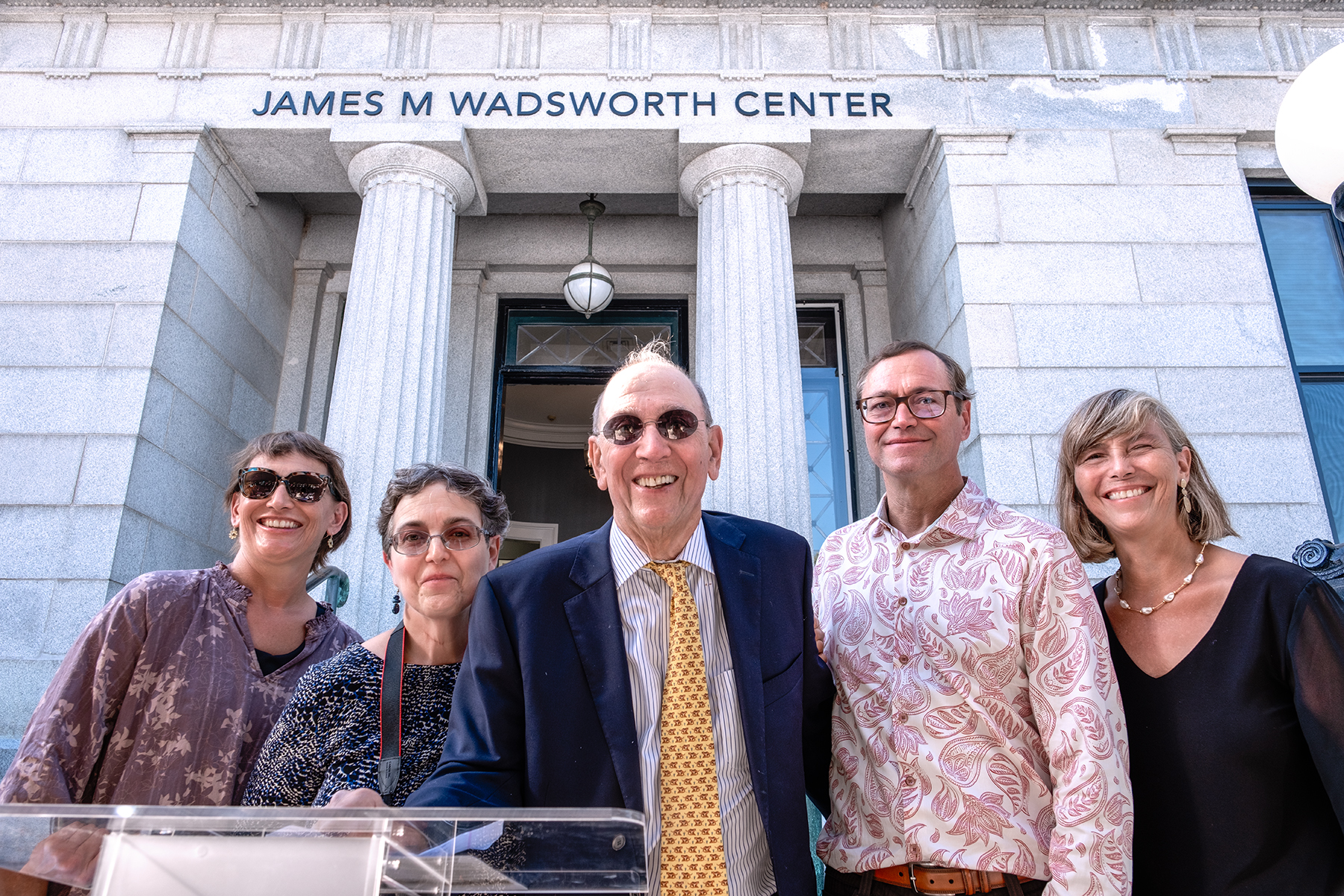 (Buffalo, New York) – Forest Lawn's Board of Trustees gathered with family, friends and colleagues of James Wadsworth this evening outside the historic Forest Lawn administration building at Delaware and Delavan avenues for a formal dedication of the iconic facility as the "James M. Wadsworth Center."
Wadsworth, retired partner and chairman emeritus of Hodgson Russ LLP, has been a member of Forest Lawn's Board of Trustees for more than 36 years, and served as chairman for the last eight years.
"It is with profound gratitude for all that Jim Wadsworth has done for Forest Lawn that we dedicate this historic building in his name," said Julie R. Snyder, chief executive officer of Forest Lawn Cemetery and the Forest Lawn Heritage Foundation. "He has played a major role in the development of this organization into Western New York's premier cemetery group, through his leadership, advocacy, fundraising efforts and personal benevolence."
The historic Forest Lawn administration building, now the James M. Wadsworth Center, was built in 1907. It was designed by architect George Cary in the same neo-classical style of his most notable work, the New York State Pavilion for the 1901 Pan-American Exposition, which is now the Buffalo History Museum.
Central to Forest Lawn's operations, the administration building served as its main office for decades. It was identified as the cemetery's primary structure in Forest Lawn's successful application for inclusion on the National Register of Historic Places – a designation realized in 1990. Through the years, it has undergone a number of renovations, with the recent most upgrades completed in 2022.
Wadsworth joined the Forest Lawn Board of Trustees in 1987 and was named its Chair in 2015. During his tenure as Chair, the Forest Lawn Cemetery and Crematory Group has taken a number of significant steps forward:
Forest Lawn has grown from five to 11 cemeteries through a program of state-approved mergers with other Western New York cemeteries. In the absence of a merger partner like Forest Lawn, these cemeteries could be "abandoned," shifting the responsibility for their perpetual care and maintenance to the municipality in which they are located.
Through significant enhancements to its operations and an expansion of its capacity the Forest Lawn Cremation Company has become the highest volume crematory in New York State.
The completion of the Scajaquada Creek Restoration Project within the gates of Forest Lawn. Through a unique partnership among a diverse group of vested stakeholders, the portion of one of the region's most important yet threatened waterways, that runs through Forest Lawn, has been restored and made more readily accessible to the public.
The placement of several meaningful and highly visited personal memorials, including those for six of the victims of the May 14, 2021 Tops killings; those who perished on Flight 3407; for Buffalo police officer Craig Lehner; and for Tibor and Katalin Baranski. In addition, a number of significant new monuments have been installed in Forest Lawn, including the St. Joseph's Carillon; the Angel of Hope statue, which stands in memory of the victims of child abuse; the "Wings of Love" garden of the Perinatal Bereavement Network; and the Daughters of the American Revolution's tribute to those who fought and died for our nation's independence.
"It is fitting that this iconic building now bears my good friend and fellow Trustee Jim Wadsworth's name," said Charles Kreiner, Jr., vice chair of the Forest Lawn Board of Trustees and Chair of the Forest Lawn Heritage Foundation. "In his nearly four decades as a Trustee and now our board chair, Jim has played a major role in positioning the Forest Lawn Cemetery and Crematory Group for continued growth and development in the face of unprecedented challenges for cemeteries across the nation. By doing so, he has done much to preserve and protect Forest Lawn – one of Western New York's most recognized cultural assets.
"Forest Lawn has always been an organization that has been near and dear to me," said James Wadsworth. "It's been a real privilege to serve Forest Lawn as a Trustee for so many years, and I am truly humbled by this wonderful honor."