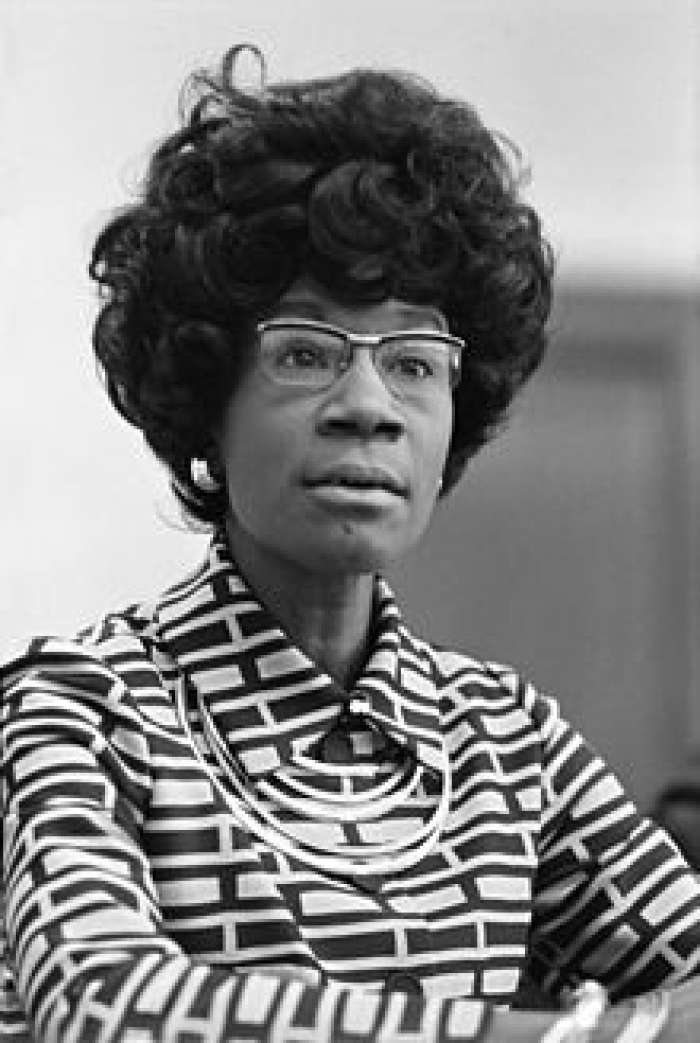 "Unbought and Unbossed:" The Story of Shirley Chisholm
"Unbought and Unbossed:" The Story of Shirley Chisholm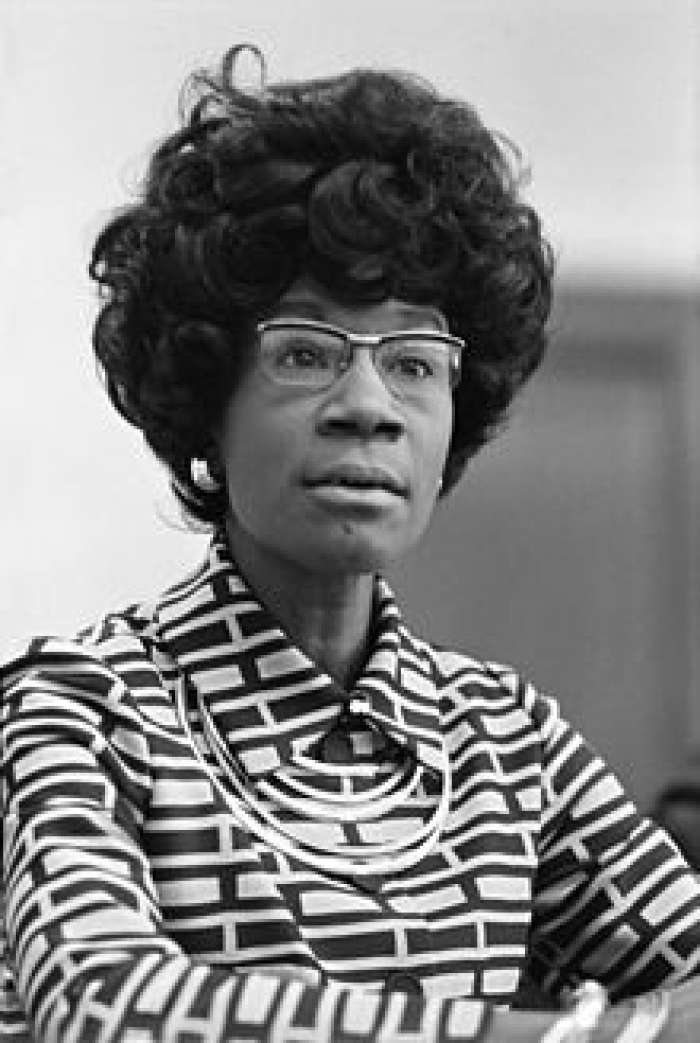 Forty seven years ago – January 25, 1972, to be exact – history was made as U.S. Congresswoman Shirley Chisholm became both the first African American and the first woman to declare her candidacy for the office of President of the United States on the ticket of a major political party (the Democratic Party).
"I am not the candidate of black America, although I am black and proud," Chisholm said in her announcement as supporters cheered. "I am not the candidate of the women's movement of this country, although I am a woman, and I'm equally proud of that. I am not the candidate or any political bosses or fat cats or special interests. . . . I am the candidate of the people of America."
Although she didn't earn the necessary votes for the Democratic nomination, her place in history was secured. And her candidacy for President was just one chapter in her remarkable story.
Shirley Chisholm was born Shirley Anita St. Hill in Brooklyn, New York in 1924. Her father, Charles was a factory worker from British Guiana, and her mother, Ruby was a seamstress from Barbados. Shirley had three younger sisters. When she was three years old, she and her sisters were sent to live with their maternal grandmother in Barbados; they remained in Barbados until Shirley was at least nine years old.
After returning to New York City, beginning in 1939, Shirley attended Girls' High School in the Bedford–Stuyvesant neighborhood of Brooklyn. She then earned her Bachelor of Arts in sociology from Brooklyn College in 1946, where she won a full scholarship and received prizes for her debating skills. In 1949, Shirley married Conrad Chisholm, a private investigator who was born in Jamaica. After completing her college studies, she went to work as a nursery school teacher and a director of daycare centers. She then earned an Master's Degree in early childhood education from Columbia University in 1952, and went on to work for New York City's Division of Day Care as a consultant.
In 1964, she ran successfully for a position in the New York State legislature, and by 1968 she won over voters in both primary and general elections to the U.S. House of Representatives, beginning her career in Congress in 1969 as the first African American woman to serve in the House, representing a district that included her own Bedford-Stuyvesant neighborhood in Brooklyn. Chisholm campaigned under the slogan "unbought and unbossed" and called herself "fighting Shirley Chisholm."
As a member of Congress, Shirley Chisholm took her advocacy for education, children and families to a new level. She served on the Committees on Agriculture and Education before becoming the first black woman, and second woman ever, to serve on the House Rules Committee. She became a founding member of the Congressional Black Caucus in 1971 and the following year declared her historic candidacy for President of the United States, vying for the Democratic party's nomination. In May of 1972, Shirley Chisholm took a step that baffled supporters. After a would-be assassin shot one of her rivals for the Democratic Presidential nomination, George Wallace at point-blank range during a campaign appearance in Laurel, Maryland, she visited Wallace in the hospital to express her concern and sympathy. The gesture attracted widespread media attention and puzzled, to say the least, those who had followed Wallace's career as one of the most vitriolic segregationists of his day. She wanted to convey, in part, her belief that it was important in a democracy to respect contrary opinions without "impugning the motives" and "maligning the character" of one's opponents. To view it any other way, she argued, was to encourage "the same sickness in public life that leads to assassinations." Ultimately, when she did not earn her party's nomination for President (which went to George McGovern), she returned to her role in Congress.
Shirley and Conrad Chisholm divorced in 1977. Later that year, she married Arthur Hardwick, Jr., who was a one-time state legislator. Hardwick, a Western New York native, was the first African American from Erie County to serve on the New York State Legislature. The two met while serving in Albany. They were active in various civic organizations including the National Association for the Advancement of Colored People (NAACP), with Hardwick serving on the executive state board.
Shirley retired from Congress in 1982, after Arthur was seriously injured in a car accident. The couple made their home in Williamsville, NY. Arthur died in 1986, and in 1991 Shirley moved to Florida. In 1993, President Clinton nominated her to be U.S. Ambassador to Jamaica, but she could not serve due to poor health and the nomination was withdrawn. That same year, she was inducted into the National Women's Hall of Fame.
Shirley Chisholm died on January 1, 2005, and her wishes were to be entombed with her late husband Arthur Hardwick in Forest Lawn's Birchwood Mausoleum. Inscribed on her crypt is the slogan: "Unbought and Unbossed."
Years after her death, recognition of Shirley Chisholm's accomplishments, and the place of significance she holds in the nation's history continues:
In 2014, she was honored by the United States Postal Service with the issuance of a limited-edition Black Heritage Forever Stamp (photo below).
Shirley Chisholm was posthumously awarded the Presidential Medal of Freedom in 2015.
Most recently, last Friday, January 25, 2019, at an event held in Birchwood Mausoleum, New York State Assemblyman Sean Ryan announced funding for a memorial to Shirley Chisholm here in Buffalo, which will ensure future generations will be able to learn about her and her legacy. (See photo of the event below.) A committee will be formed to identify the best way to represent her legacy, and it's anticipated that her memorial will be placed in time to celebrate the 50th anniversary of Shirley Chisholm's historic presidential run in 2022.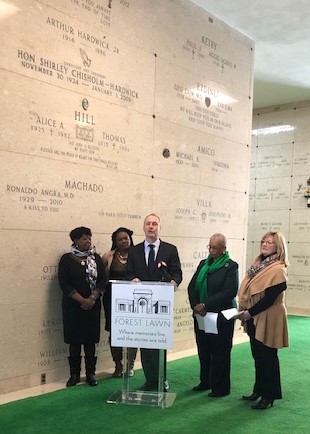 Photo of the event held in Forest Lawn's Birchwood Mausoleum on Friday, January 25, 2019. Pictured below Shirley Chisholm's and her husband Arthur Hardwick's crypt are: (left to right:) NY Assembly Majority Leader Crystal Peoples-Stokes, Erie County Legislature Majority Leader April Baskin, NY Assemblyman Sean Ryan, Buffalo School Board President Barbara Seals Nevergold and Executive Director of the Erie County Committee on the Status of Women, Karen King.